Matt Pless in Witten am Samstag, den 01.12.18
Band:
Matt Pless
Singer/Songwriter
Line-Up:
Matt Pless (New York/Brooklyn) & Shibby Pictures (DIY-Film-Screening from North Carolina/US): Konzert + Kurzfilme
Infos:
Matt Pless (New York/Brooklyn) & Shibby Pictures (DIY-Film-Screening from North Carolina/US): Konzert + Kurzfilme
Samstag, 1. Dezember 2018, 19:30
Was für ein fantastisches Package: Aus New York/Brooklyn haben wir den großartigen MATT PLESS bei uns zu Gast. Dazu kommt der amerikanische DIY-Filmemacher "Jak" von Shibby Pictures aus North Carolina, der ein paar seiner Kurzfilme und Musikclips präsentiert, die er unter anderem schon mit Leftover Crack, Days N Daze und Mischief Brew gedreht hat. Das wird verdammt geil, versprochen! Der Eintritt ist frei (Spendendose steht zur Finanzierung der Unkosten der beiden bereit) und die Küche ab 15:30 Uhr durchgehend geöffnet.
SHIBBY PICTURES
===============
Shibby Pictures is the production company of filmmaker Jak Kerley. It's the angry, confused style of filmmaking that no film festival is interested in hosting. Hidden in the relatable coming-of-age stories are messages of anti-capitalism, anti-racism, and gender equality.
When it comes to filmmaking, Shibby Pictures maintins a strong DIY ethic. Having a DIY ethic means that we are able to produce a quality production with little-to-no budget, crew, or other resources.
Shibby Pictures hand-prints our own shirts and patches, and self-distributes all videos and movies on their own terms, which has been met with great success in the past several years, resulting in over two million views on all of our videos, and over 11,000 subscribers, with a constantly growing fanbase.
For years, Jak has immersed himself in the DIY music scene, shooting music videos for bands like Leftover Crack, Days N Daze, and Mischief Brew, and dozens more. He is also known for his widely-viewed documentary on DIY culture, "Trying It At Home" that was released in 2014. In addition to all of this, he has shot 3 feature-length films and several short films.
In 2013 he began touring all over the world, hosting screenings of his work in art spaces across the planet. These tours have seen Jak hosting screenings in places like beaches, a racquetball court, a cave, and batting cages. To this date, Jak has hosted screenings in 35 different states and 17 different countries.
www.shibbypictures.com
www.youtube.com/watch?v=P9OHRCJHKAc
www.youtube.com/watch?v=KZBL6wvcBn0
www.youtube.com/watch?v=uQ4AzIDfeh0
MATT PLESS
==========
Combining elements of folk, punk, pop and roots rock, Matt Pless can lyrically turn a phrase with the best of them. He has been compared to some of the top songwriters of our time, including John Lennon, Paul Simon, John Prine and Bob Dylan. Known for his engaging and thought-provoking, witty, word labyrinths, Matt's music spans topics from love and loss to social commentary to ethereal train-of-thought abstractions, and everything in between.
Matt has spent the bulk of his time touring around the United States playing coffee shops, clubs, basements, living rooms, boxcars, wherever there are people who want to hear his music. A consummate performer with a high-energy stage presence, he books his own tour dates and along the way has managed to share the stage with Maroon 5, Fallout Boy, Ani DiFranco, David Amram, Rilo Kiley, Alkaline Trio, NOFX, Arlo Guthrie, Bad Brains, the late Pete Seeger and many other heavyweight names in the music scene. Matt was also the inspiration for Occupy This Album and wrote and performed the opening song for the compilation. That disc (which combined both well-known and unknown artists) arose from the Occupy Wall Street movement and featured Jackson Browne, David Crosby, Graham Nash, Yoko Ono, Willie Nelson, Deborah Harry, Loudon Wainwright III, Arlo Guthrie, and many others.
Almost anyone can relate to a Matt Pless song. His unique gift for writing lyrics and melodies that appeal to the core of the human condition is, like Matt himself, unique and rare.
www.mattpless.com
www.youtube.com/watch?v=zBKl4mz8kBs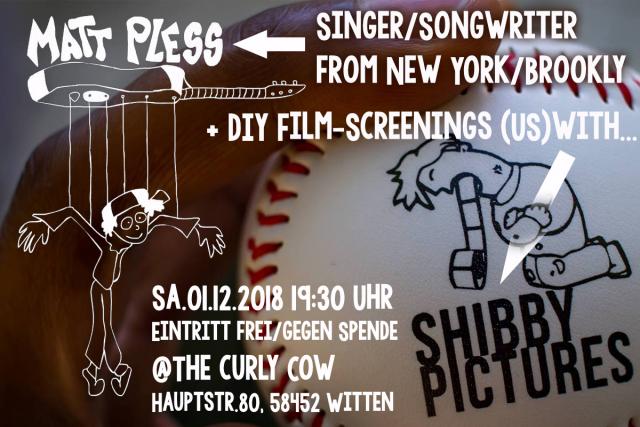 Bildquelle: www.bierschinken.net
---
Deine Eingaben werden bis auf Widerruf gespeichert und für Nutzer der Seite sichtbar.
Die Angabe der Email-Adresse ist freiwillig und sie bleibt nur sichtbar für eingeloggte Nutzer.
Weitere Infos in unserer Datenschutzerklärung.