Bonsai Kitten (Band) » Berichte
Stil:
Psychobilly, Rockabilly
Herkunft:
Berlin
www.bonsai-kitten.de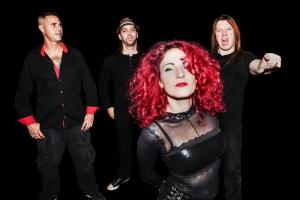 "Welcome To My World" the new Bonsai Kitten album is out now on Wolverine Records. But what kind of sound expresses the Bonsai Kitten world best, that is at once so painfully gloomy and yet sickly-sweet? Well, imagine the soundtrack to a Tarantino film....on steroids. With even more comic book kitsch. Now you're getting a rough idea of the sound of Germany's 'killbilly' outfit Bonsai Kitten; a fei
sty foursome that revels in sharp outfits, drama - packed live sets and knowing retro chic. Born and raised in Berlin's notoriously eclectic cultural underground, they are a serious force to be reckoned with!Their self - entitled debut-EP was released in 2007 for the Japanese market only and is yet completely sold out. The snotty sophomore fulllength Bonsai Kitten album "Done With Hell" in 2011 earned great critical acclaim across the globe and can only be topped by their newest attack "Welcome To My World" in 2012. Even Icons, such as Hank Ray, Mark "Mad Dog" Cole, Danny B. Harvey and Tex Morton have joined forces with them on their new record. So just step into the Bonsai Kitten world, which is bursting at the seams with explosive energy and get your share!
Infos zuletzt geändert: 03.11.2012 20:35
---
---