Blatoidea in Braunschweig am Donnerstag, den 12.10.17
Line-Up:
Blatoidea
Blatoidea is a 4 piece DIY punk band formed in 2008 and based in London. Thru the years the managed to build a solid following touring around the UK and Europe. Thy shared the stage with bands like GBH,Discharge and playied different festivals in the UK like the notorious Rebellion Festival.
Breakout
is:
Franck - Lead Vocals/Guitar
Sylvain - Drum
Raf - Bass/Vocals
Marty - Guitar/Vocals
Just War
Prague, Czech Republic
Call the cops
Bologna, Italy
A bunch of stinky drunkards got into a bar, met each other and got totally wasted and talked about setting up a very rough thing.
Most lyrics speak about the ossession of time in speedfreak society where you lifetime seems to belong to somebody else.
Fuck the cops. We hate them. We hope they die <3.
Fuck Fascism.Fuck Racism. Fuck Authority.
Fuck Sexism.
Fuck pretentious fucks.
Doors: 19:00
Start: 20:00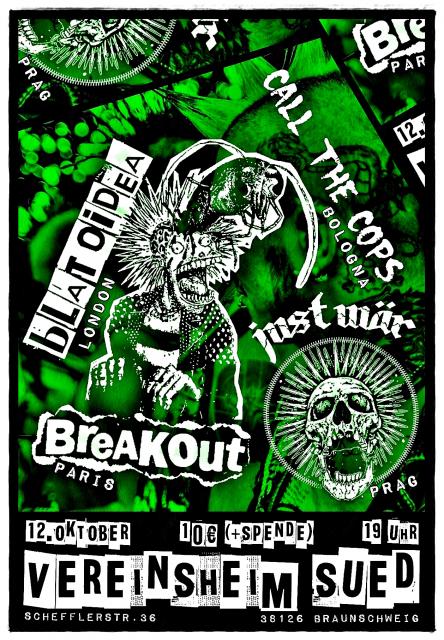 Bildquelle: www.bierschinken.net
---